It's been quite a hectic few days with some good stuff and some not so good stuff happening around here.
Firstly, the good stuff. I played with the Crossover II machine and cut out fabric and papers to make English Paper Pieced pentagon flowers (all at once).
It was the first time I played with this shape and wasn't quite sure what I'd make with it when I requested it from Crafters Edge, but found that I really like making these pentagon flowers. They certainly go together way faster than a hexagon flower, which for me (the slowest EPPer in the world) is a good thing.
I figured out how to make a 'reel' on instagram the other day, so I made a little reel (with music) of the process of cutting fabric and papers with the Crossover II. A reel seems to be a very short compilation of video set to background music. What I found the trickiest was compressing it all down to fit everything in that I wanted, into the allocated 15 or 30 seconds.
If you don't already follow along, I'm @sameliasmum on Instagram. Feel free to leave your username in the comments so we can all go ahead and follow along with you.
I mentioned that hubby was doing a flight over the southern ocean over the weekend to search for the Aurora Australis, also known as the Southern Lights.
Image Source: @davefinlaydigital
He said that in real life, the lights don't look this bright or green, but kind of greyish. It's the long camera exposure which gives this effect. I found this interesting as I thought the sky would be glowing green.
Image Source: @davefinlaydigital
They had a professional photographer on-board who took some great shots and shared them on social media. Screen grabs above.
It was Mother's Day on the weekend. After being home for just over a week, mum got sick again and had to go back to the ER for treatment and then admission back into hospital. She's on the mend for now, and all going well is being discharged tomorrow morning, but we were all very stressed and worried. The young drs in the emergency room don't seem to have the bedside manner which the more senior ones or specialists do and I can't even begin to guess how many tears were shed.
My kids did their best to cheer me up and take my mind to happier places. They got me some lovely gifts and cooked breakfast and dinner plus cleaned everything up afterwards. And I got lots of hugs through the day. They're my little treasures and I'm very lucky to have such wonderful and caring kids.
Hoping this week is better.
I finished 2 books this past week. One was a very slow read and I really struggled to finish it. The other book was excellent and it was enjoyed in only a couple of days.
Book 12/26 for my 2021 reading challenge was Lost by Michael Robotham.
Everyone knows that Mickey Carlyle is dead and a man is in prison for her murder. Everyone, that is, except DI Vincent Ruiz, who cannot stop searching and hoping. He is discovered one night clinging to a buoy in the River Thames, with a bullet in his leg and a bigger hole in his memory.
Under investigation by his colleagues and accused of faking amnesia, Ruiz's only hope of unravelling the puzzle is to retrace his steps and relive that night. But there are further dangers lying in wait and other ways for a man to drown...
This was one of those books that I'd only read a few pages and then be ready to go to sleep. It didn't capture my attention or make me want to stay awake half the night to read, like his previous books (which I really enjoyed), but after getting through half of it, I didn't want to give up so continued on reading it to the end.
Personally, I thought it was a little bit under-whelming.
Book 13/26 in my 2021 reading challenge was Flying the Nest by Rachael Johns. I started reading this book as it's the next book they'll be discussing in an online book club which I joined on Facebook.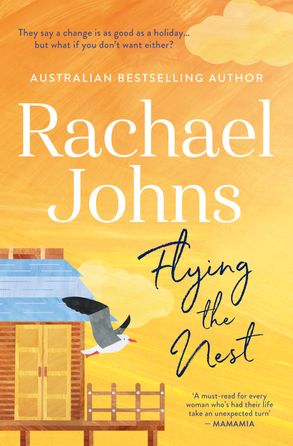 The first time Ashling Wood realises her marriage is on the rocks is when her husband, Adrian, suggests they try nest parenting. Heartbroken, Ash suddenly finds herself living a double life - one week with her children, the next cohabiting with her happily single sister-in-law. Her friends think the modern custody solution is an exciting opportunity for her to spread her wings, but all Ash wants is her family back together.
An offer to renovate a seaside cottage seems like the perfect distraction for Ash while waiting for Adrian to come to his senses. She's determined to fix her marriage as well as the cottage, but life gets even more complicated when she meets local fisherman Dan Emerson.


Soon, each home-stay becomes more dysfunctional, while for the other week Ash enjoys the peaceful life of the beachside community. The more time Ash spends in Ragged Point, the more she questions what she really wants. Is a sea-change the fresh start she needs to move on?
I thoroughly enjoyed this book. It was a light and easy read with a smattering of romance, likeable characters and lots of relatable moments.
I've now put a few Rachael Johns books on reserve with my local library, though she seems quite popular as some of them won't be available for many months yet.