And like that, it's the end of October. Happy Halloween if it's a holiday you enjoy and play along with. I wrote a TS post last month and am now writing the next installment. I feel like I'm on a bit of a roll here. Let's see if I can keep it going through to the end of the year.
MAKING: So let me go back and recap what I've made this month. Honestly, how good is having a blog to keep track of everything?
I started out the month making scrappy dresden plate blocks as part of an instagram tiny dresden party.
And here were
more dresden plate blocks
. These were all made with my Crafters Edge Crossover II machine and the tumbler + circle dies.
I repurposed a couple of rag rugs to make a
new bigger oval one
. My dog liked it at first, but it's since been taken over by my cat.
I started a new crochet blanket which I'm calling my
Bits n Bobs Blanket
. It's the perfect project to work on in the evenings when I watch telly with the family (or in bed after everyone has gone to sleep).
I have also made a couple of cushions (or pillows). A
Squid Game pillow
which includes the templates to make your own version.
And a
custom cushion
for a friends grandmother who has a big birthday coming up soon.
Phew, I've made more than I'd expected... and that's not to mention the little bits n pieces that I hadn't blogged about.
COOKING: Good stuff just about every day. One stand out this month was these Swedish-Style Meatballs with mash. I think my kids would have licked their plates clean if I wasn't looking. The recipe came with a Marley Spoon box we had tried out earlier in the year and even though we don't subscribe, the recipes are great and the kids actually want to help cook.
READING: Are you on Goodreads? If yes, look me up? Or leave your goodreads link in the comments. My challenge was 26 books in 2021 (I figured one every couple of weeks) and I'm currently at 33 books. Yay!
This month I finished reading Trust by Chris Hammer (the 3rd in the Martin Scarsden series), Rabbit Hole by Mark Billingham, These Women by Ivy Pochoda and I listened to 488 Rules for Life by Kitty Flanagan through the ABC Listen app. Aussie friends, the ABC Listen app has some great audiobook and podcasts - all free to listen to. If you haven't yet, listen to Kitty read her own book.
HEARING: the sound of the dishwasher and drying rack being emptied by the kids - with lots of bickering.
WISHING: for this beautiful mint green Christmas tree from Spotlight. Perhaps I'll wait and see if it gets discounted after Christmas and put it away for next year.
ENJOYING: Double chocolate muffins. YUM!
EATING: a moderately ripe banana. I saw this chart through the week and decided that I prefer my bananas at around a level 11.
What about you? What's your banana level?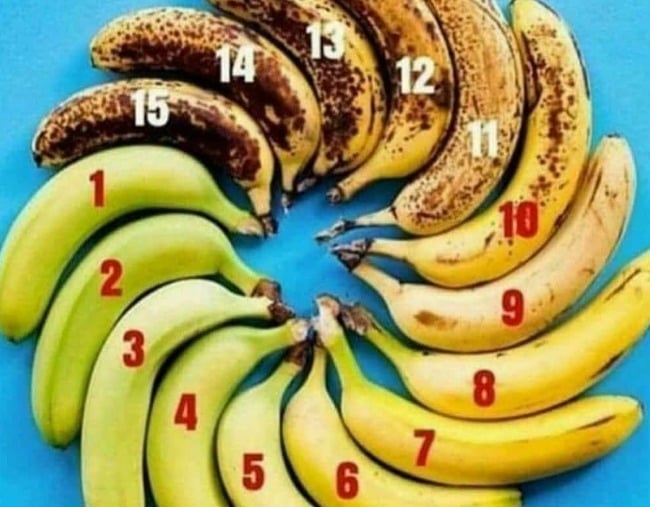 BUYING: Hoping to buy a new corner lounge (couch, sofa) for the family room although we haven't found 'the right' one yet. I'm not tall, so prefer a couch which doesn't have a long seat (if that makes sense) as my feet then don't touch the ground if I sit right back... so far, the couches we've seen seem to be for tall people.
WATCHING: I've just finished Good Girls on Netflix and I must admit that I thought the ending was a little bit "meh". Did you watch this series?
NEEDING: This Friends Christmas Mug - perfect for a holiday movie marathon.
How the Grinch Stole Christmas, A Christmas Story, Elf, Home Alone and National Lampoon's Christmas Vacation.
WEARING: It's crazy weather here right now so the starts out with long sleeves, strip down to short sleeves and then by the evening it's cold again.
FOLLOWING: @stoopingnyc on Instagram. Excellent and unusual treasures found on the stoops (curbsides) of NYC.
SORTING: We've been going through the spare room which has become a bit of a dumping ground of late. It's where we also have shelves of DVD's. I know that we should just bite the bullet and get rid of them, but part of me wants to hold on to some of them.
SAVING: All sorts of empty glass jars with lids as they could be useful for pickles or preserves... if I ever do get around to actually pickling or preserving things.
Here are some fun ideas for glass jars.
FEELING: happy that the kids are back at school, but also missing seeing them through the day.
If you'd like to take stock too, here's the list of prompts that I use.
Making:
Cooking:
Reading:
Hearing:
Wishing:
Enjoying:
Eating:
Buying:
Watching:
Needing:
Wearing:
Following:
Sorting:
Saving:
Feeling:

The original (longer list) Taking Stock can be found at Meet me at Mike's blog.