I've been a bit obsessed about dining tables lately. I know, it's a weird obsession topic, but hey, we all have our quirks.
With the weather having been kind to us, house construction is on target. If all continues to go according to plan, the house will be at 'lock-up' stage in the next fortnight which means that it can pour with rain, hail or snow and it shouldn't affect the construction… theoretically.
So with the end approaching, it's time to think furniture.
EOFY sales are going on all over the place, so it's time to consider ordering the big ticket items. Those items which take months to be hand-crafted… by magical elves wearing funky shoes, carrying out their craft in candle-lit little workshops in magical lands.
Okay, perhaps I was being a little fancy with my wording – but you get the gist.
I've been obsessing about dining tables. In my head, I have a clear picture of what I want, but the reality of finding said table has been harder than expected.
I want a strong table. Farmhouse meets urban meets French country meets Hamptons. Rectangular shaped for the space where it will live in the house. It needs to be large enough to have the family over, and everyone sitting comfortably (10-12 seats). I want it to be textured with a sort of low sheen appearance. We should be able to use it without fear of scratching it or leaving hot coffee cup "rings" on it. Recycled or reclaimed timber is preferred. It needs to have solid, sturdy legs.
Am I asking for too much?
My husband says YES. Literally. I just read out this paragraph to him and that is what he said.
On our way back home from the Craft & Quilt Fair, we stopped in at French Dressing in Waterloo (Sydney). Honestly if you're ever in the area, it's worth a visit. Even if just for the eye candy and the French music playing in store.
On the weekend, I dragged hubby and the kids (kicking and screaming I might add) to Freedom and Domayne. I do like to torture my family, but deciding on something that we're all going to use and will essentially be the centre of our house, is important.
I (think) I like this 2.9m Solid oak dining table from Chocolate Wood.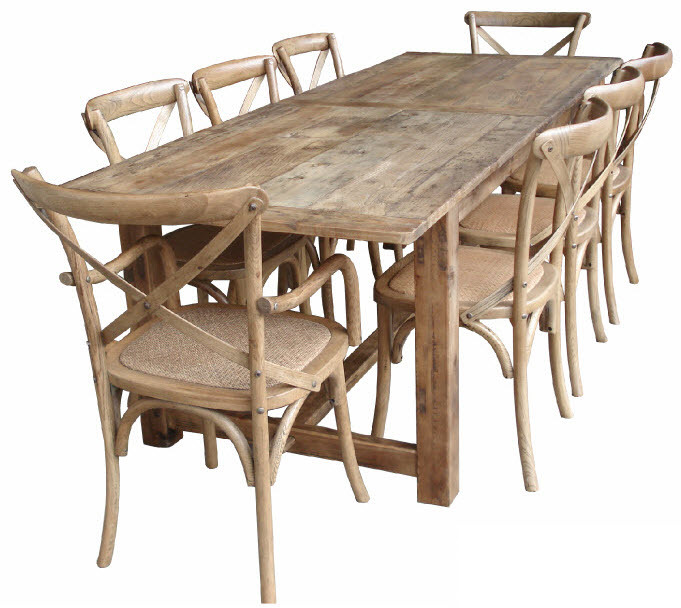 Disregard the chairs in the images. I'm thinking of just buying some white chairs from Ikea.
This farmhouse table is lovely, but it's just a teensy bit small at 2.6 metres. Available at Freedom and it's on sale until mid July.
This best part about this table is that I can get this matching Farmhouse Console table which is also on sale.
We're currently living in our little temporary house. Every night we sit at our 4 seater table on our 4 stools. When it's meal time we have to pull it out from the corner where it lives and when we finish eating, we have to pack away the table and stools. I'm am over this nightly routine.
On the days hubby is away at work, the kids sit on the available 2 sides and I either sit on the protruding corner or more often than not, stand at the kitchen bench to eat dinner.
I have romantic notions of what our meal times will involve once we move. We'll all sit down together to eat and talk about our day – like in American 1950's television shows.
I imagine friends coming by to visit. Sitting around the table with hot cups of tea and cake.
I see stitching friends with their bits and bobs all laid out in front of them, stitching and chatting… again, with cake.
Is your dining table one of the most 'central' parts of your home?