Today being 1st June marks the first day of winter, here in Australia and boy it is getting cold.
It was 4ºC when I drove the kids to school this morning - which isn't a big deal in some places in the world who get lots of ice and snow, but anything in single digits is worth mentioning around here.
The thing about Australian's is that we don't seem to dress for the weather. It was a Norwegian friend who first alerted me to this fact because he found himself doing the same, when he came to live here for a few years.We seem to dress down because by mid morning, the thermometer is reading 23ºC so we take that as our weather for the day and deal with the chilly legs and and numb fingers (with lots of complaining about how cold it is) until then. Hmmmph!
My Berry Pie crochet blanket is coming along nicely. With this cold weather we've been having lately, it's nice to sit and work on it in the evenings. We've been watching Unforgotten on Binge and are sadly up to the last season. It's the sort of show where we decide to watch just a little bit more, may watch just the start of the next episode and before we know it, that whole episode is finished and it's after 11pm.
I've worked out that the blanket takes approximately 12-13 grams of yarn per colour row (back and forth). Having this rough guide is handy so that I know if it's work starting a row with these little balls of yarn or not bothering.
I think I probably have enough for another few colour changes and then I'll need to think about how I'll finish it.
Border or no border?
How do you like to finish your crochet blankets?
Book 17 of 26 in my 2021 reading challenge was 'Talk of the Town' by Rachael Johns.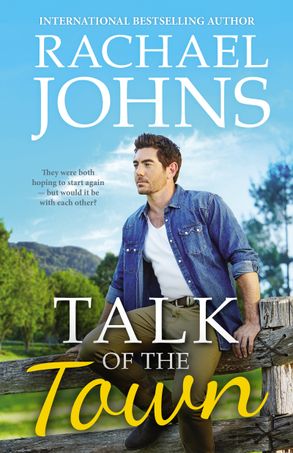 Lawson Cooper–Jones has two priorities in life – his son, Ned, and the survival of the dairy farm that has been in his family for generations. Despite the best efforts of the town matchmakers and the determined pursuit of local girl Adeline Walsh, Lawson's heart belongs still, and only, to his late wife.

But when a flat tyre strands Lawson and Ned in nearby Rose Hill, he's surprised to find a woman living alone in the old general store of the deserted town. Ned immediately forms a bond with the beautiful stranger called Meg, and Lawson is surprised to find himself captivated by her too.

Although shy at first, Meg starts to open up to him about the haunting secrets of her new home and, with Lawson unable to get her out of his head, they agree to investigate the history of the old building together. Soon they find their friendship has bloomed into something more.

But when meddling Adeline makes it her mission to uncover the truth about the newcomer and her real identity is revealed, Lawson and Meg's budding romance comes crashing down. Can they both learn to forgive in order to claim a future for their damaged hearts?
It was an easy read (this one I read as an ebook on my phone). It was a nice formulaic type of romance novel. Boy meets girl. They fall for eachother. Something dramatic happens and they split up. Finish with them getting back together and living happily ever after.
Sometimes, it's nice to read a book which flows just like you'd expect and ends well with lots of sunshine and rainbows.