Happy Saturday Friends! It's the last weekend of the winter school holidays here in NSW and we've been gifted an absolutely stunning day. It's around 18C, we have a gorgeous bright blue sky and the day is ahead of us without commitment and unlimited possibility.
I spent yesterday afternoon and evening making my Exclamation Mark! Table Runner.
The Exclamation Mark is my second block from the Spelling Bee Quilt Along, hosted by Lori Holt and Fat Quarter Shop.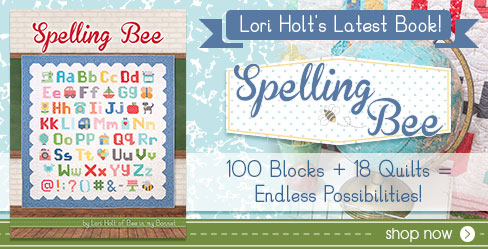 The block is very simple to make and I couldn't stop at just one. I made some green ones using a Riley Blake print called Holiday Clover along with white solid. Then I made some reverse ones in white with the green in the "space" between the line and dot.
I then started to arrange them on my table. There were so many layout possibilities. I decided to sew exclamation mark blocks in rows of 6. I then sewed the blocks at angles. First set was up/down and the second set was sideways, then up/down, then sideways etc.

I added a white border and then quilted it in uneven, "organic-looking" lines. I really like this quilting effect. After binding it, I decided that it needed some additional hand quilting (right?!?) so got out some lovely orange Perle 8 cotton and got to work. I got a portion done last night and will finish the extra hand sewing this evening.
Spelling Bee Book by Lori Holt is such a fun one with 100 different blocks to create. It's certainly a great resource for my sewing book library, with tonnes of sewing options for quilts and projects.